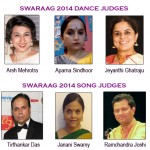 SWARAAG 2014 DANCE JUDGES
Arsh Mehrotra Dancing/Acting skills prompted her to join and win the UNITED PRODUCERS AND FILMFARE TALENT CONTEST while in high school. She worked as a lead in PHOOL AUR INSAAN, SARFAROSH UDDHAM SINGH and MANAVATA. In Boston, Arsh started her television show AAP KA MANORANJAN which was a household name from 1993—2006. Entertaining South Asians by also screening Indian films and Live Concerts of Stars from India like AAMIR, Shahrukh, Aishwarya, Daler Mehndi, Karishma, Shahid, Kareena, Salman, Asha Bhosle, Adnan Sami, Sonu Nigam, Shreya Ghoshal, A R Rahman and others. Presently, she continues to entertain South East Asians by bringing live concerts and screening world premiere Indian Films through AapKaManoranjan.com
Aparna Sindhoor Artistic Director of Navarasa Dance Theater navarasa.org creates unique dance-theater and tours around the world. She is a leading exponent of the Mysore style of Bharatanatyam, trained for fifteen years with legendary palace dancer, Venkatalakshamma. Has a PhD (Dance) from BU, received Creation Award from NPN, nominated for Los Angeles Stage Alliance Ovation Award for Choreography and teaches dance, yoga, Kalarippayattu martial arts, and theater. She has performed at the Lincoln Center and is an RDDI artist (NEFA) and was an artist in residence at the Bates Dance Festival, East West Players, Asian Art Museum and Brandeis University. She has choreographed for films and for Cirque du Soliel fame Franco Dragone's circus in Germany. She has choreographed for Indian films including Santosh Sivan's Ananda Bhadram and S M Raju's Varnam
Jeyanthi Ghatraju a Bharatanatyam dancer, choreographer, teacher, started her school, Natyanjali, with a mission to perform for underprivileged and is completing twenty years on her mission. She was the first President of KHMC (Karnatic Hindustani Music Circle) and currently serves as its Treasurer, was recognized recently with the US Presidential Service Gold Award for recording over 500 hours of community service in 2013 and also was one of the Finalists for the Woman of Year award by INE News magazine. She is a Plant Geneticist by training and a Software QA Engineer by profession.
SWARAAG 2014 SONG JUDGES
Tirthankara Das an IT executive in a Wall Street Firm, and a entrepreneur who has successfully started Magnapex Media and Entertainment, partner with Pramod Chandorkar in SoundIdeaz studios and Academy, produced and co-directed "Hang Up", a thriller shot in both Hindi and Telugu released in March 2014, produced and co-directed Chath-A Roof Without Walls, a Hindi feature film screened in 8 international film festivals. In collaborations with Shyam Vai, he has composed music for hindi and telugu feature films like "Bandhak", "Circus-Circus", "Priyattama" and "Cricket Girls and Beer" and many other short films.  He has composed and recorded songs with Sonu Nigam, Shreya Ghoshal, Sunidhi Chauhan, Shankar Mahadevan, Shaan, Karthik, Javed Ali, Mahalakshmi Iyer, Sadhana Sargam, Naresh Iyer, Runa Rizvi, Nityashree and Karunya.  In August 2014, he composed music for a Bollywood theater musical "Bollywood Dreams" that will tour US for multiple performances in 2015. He has also produced/coposed a short film "Finding Home".
Ramchandra Joshi an accomplished vocalist, Harmonium player, actively engaged in teaching, performing classical vocal concerts at various occasions in various cities in India, US, Europe, specializes in Khyal, Thumri, Bhajan, Bhav Geet, Gazals Old Hindi Songs  Natya Sangeet and Rabindro Shongeet (Ravindranath Tagore Songs). Has held workshops in Switzerland, UK and USA, a graded Artist at All India Radio Mumbai India, topped 2nd in All India Level music competition held by "Akashvani", Initially trained from his mother Mrs Anjali Tilak, a regular on All India Radio Mumbai and learned Classical  Vocal Music from Smt. Tulika Ghosh at Sangeet Mahabharati Mumbai Founded by Late Padmabhushan Pt  Nikhil Ghosh.
Janani Swamy learnt Carnatic music at the age of 6 at the Bharathiya School of Music in Mumbai.  Her gurus are Smt. Kalyani Sharma and Smt. Alamelu Mani of Mumbai and Sri. B. Raman.  She specializes as a dance musician and has provided vocal and nattuvangam support for several Bharatha Natyam recitals.  She is also a seasoned Bharatha Natyam dancer and a senior disciple of Guru Smt. Rajee Narayan of Mumbai, with several dance recitals in North America and India to her credit. By profession, Janani is a Chemical Engineer and is Senior Director of Manufacturing Sciences and Technology at Genzyme Corporation.